We're Getting Mutants in the MCU - The Loop
Play Sound
Deconstruct is a unique feature that allows Ryder to recover resources and inventory space from crafted, found, or purchased weapons and armor.
Overview
[
]
Inventory items are acquired through combat, exploration, purchase, and/or strike teams. Even with increased inventory capacity, Ryder will eventually reach the limit. If a merchant is not readily available, the best option may be to deconstruct weapons or armor, since resources don't take up inventory slots.
Guidelines for Deconstruction
[
]
The following general rules can be used for trying to determine whether to sell or deconstruct weapons/armor (based on the value of the credits that can be recovered).

Common, Uncommon, and Rare Weapons

Deconstruct weapon and keep the components
Deconstruct weapon and sell the components
Sell the weapon
Ultra Rare Weapons

Sell the weapon
Deconstruct weapon and keep the components
Deconstruct weapon and sell the components
All Armor (except Heleus Armor; see Notes)

Deconstruct armor and keep the components
Deconstruct armor and sell the components
Sell the armor
In general, the cost of the materials cannot be recovered by selling the item. (See Notes for an exception.)
Non-crafted weapons sometimes return an augmentation when deconstructed. This is an additional benefit besides credits and a reason why deconstruction may be a better choice than selling, even for Ultra Rare weapons. (See Notes)
Mechanics
[
]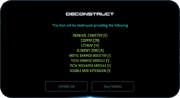 The deconstruct process is very simple:
Open the Inventory screen, choose a weapon or armor piece to deconstruct, and select Deconstruct.
The Deconstruct screen will show the materials to be returned to Ryder and the option to continue with the deconstruct or cancel.
Select OK to deconstruct the item and recover the listed resources.
Currently equipped items can't be deconstructed. (see Deconstruct Strategy)
Weapons and Armor
[
]
A fraction of the materials used to develop an item will be recovered, with the exception of Remnant Cores, which will only be returned from Heleus Icon Armor X. All augmentations will be returned. Equipped fusion mods and weapon mods are returned.
Other Items
[
]
The following items may not be deconstructed, but they may be destroyed to make room for something more useful (if necessary). Not all items like this take up space though.
Deconstruction is the only way to get augmentations already developed into items returned to Ryder.
Deconstruction issues
[
]
Certain items have discrepancies and/or changes to the returned resources from the normal pattern during deconstruction. These are confirmed through deconstruction to actually return the resources listed and are not display errors. These differences are listed below:
Notes
[
]