Equipment are permanent items that can be used by APEX Teams during multiplayer gameplay.
Mechanics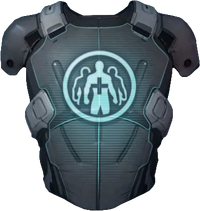 Equipment is equipped in the Weapons sub-menu in the Character Customization menu screen to the right of the weapons selections.
One equipment item can be equipped per mission.
Equipment can be used repeatedly and does not disappear after the match.
For comparison, Boosters are temporary single mission items.
Notes
Specific pieces of equipment can be purchased with the multiplayer DLC add-on packs.
If the Stronghold Package and Structural Ergonomics are the last two items you are attempting to purchase from the Store (and you didn't purchase them when they randomly appeared with other pieces of equipment), they WILL NOT appear in the Store. This is a known issue and can no longer be fixed. However, if all of the other 30 pieces of equipment are owned, purchasing one of the MP DLC Pack - Collection Items packs will force the equipment items to appear as a substitution for the equipment listed in the pack.
For example, if you have all of the remaining 30 equipment items, and you purchase the Asari Adept pack, already having the Commando Package will force either the Stronghold Package or the Structural Ergonomics piece of equipment to appear in the pack. Purchasing a second DLC pack after this (such as the Krogan Vanguard pack) will then force the last remaining piece of missing equipment to appear in the pack.
1 Patch 1.09 renamed the Revive Pack Transmitter to the Supply Pack Transmitter. This also changed the function of the equipment to include the transmission of first aid packs and ammo packs as well as increasing the explosion radius of the Cobra RPG.