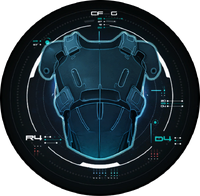 Fusion mods are used to enhance armor. Each is far more powerful than the otherwise comparable armor augmentation, but each comes with a major penalty. As with weapon mods, fusion mods can be swapped out during loadout.
List of armor fusion mods
[
]
Notes
[
]
Only chest armor pieces for Ryder can use fusion mods.
Equipped fusion mods have a green check mark .
The Deep Space Explorer Armor and Scavenger Armor cannot be equipped with fusion mods.
The penalty of the mods can be cut in half with the Commerce Cryo Pod perk Fusion Mod Support.
Save for two, all fusion mods are obtained by activating Vaults or killing Architects.
Fusion mods do not count towards the inventory item limit.
These items will not show up in the "Armor" screen at a merchant but only in the "All Items" screen.
These are unique items that can't be found again during the same playthrough. While it is possible to sell a fusion mod to a merchant, it is HIGHLY advised not to do so.
New Game + Ryders will retain the fusion mods from their predecessor and could reasonably sell duplicates as they acquire their own.
See also
[
]