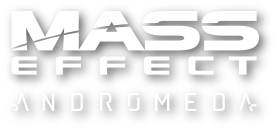 Mass Effect: Andromeda is an action role-playing (RPG) third-person shooter video game developed by BioWare and published by Electronic Arts. It was developed using the Frostbite game engine. Mass Effect: Andromeda was officially announced on 15 June 2015 during the Electronic Arts press conference at E3 and was released March 21, 2017 on Xbox One, PlayStation 4, and PC.
Story
[
]
Mass Effect: Andromeda shares the same universe as the original trilogy, but is considered a separate story, taking place long after Mass Effect 3. Players will be leaving the Milky Way behind and exploring the Andromeda galaxy instead. There, players will lead the fight for a new home in hostile territory - where they are the aliens.
Payers will play as the Pathfinder - a leader of a squad of military-trained explorers - with deep progression and customization systems. This is the story of humanity's next chapter, and choices throughout the game will ultimately determine their survival in the Andromeda Galaxy.
Features
[
]
Be the Pathfinder. Chart your own course in a dangerous new galaxy. Unravel the mysteries of the Andromeda galaxy as you discover rich, alien worlds in the search for humanity's new home.
Return to the Mass Effect universe you love. Lead the first humans in Andromeda on a desperate search for our new home. In this new chapter of Mass Effect, meet and recruit all-new, interesting characters caught up in an epic space saga filled with mystery and galactic conflict.
Battle like never before. New additions like destructible environments, boosted jumps for added verticality, and all-new weapons and Biotics make combat more thrilling than ever.
Play your way. Build a formidable hero with amazing weapons, powers and tech. With a much more flexible skill and weapon progression tree, you can replicate your play style to make you unstoppable against powerful alien enemies.
Join the APEX Forces. Multiplayer in Mass Effect: Andromeda places you into a class-based, 4-player co-op fire-team experience. Team up with three of your friends to take on the enemy threat and protect the interests of the Andromeda Initiative.
Game editions
[
]
Mass Effect: Andromeda is available in three editions: Standard Edition, Deluxe Edition, and Super Deluxe Edition. A fourth, the Collector's Edition, does not include the game itself.
DLC
[
]
Despite hints at the end of the main storyline, there is no additional story content available in the game.
For the multiplayer mode, there are four Recruit Packs that can be purchased. These DLC packs are intended mostly for new players and, with the exception of the Stronghold Package in the Turian Soldier pack, all the items they contain can be acquired through the in-game Store. The main benefit for an experienced player would be the increased ranks for specific items that would otherwise be acquired at random. The available packs are:
Bonuses are available for players who pre-order Mass Effect: Andromeda.
See also
[
]
External links
[
]